BEST OF GREEN SPACE: 30 YEARS OF COMPOSTED COLUMNS, by Duane Campbell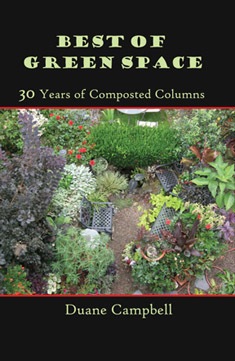 Laugh through the garden year with ultra frugal garden columnist Duane Campbell. Real garden techique is crossed with pointed humor in this collection of essays (224 pages). Learn plant lore and garden methods. Read about Bill the garden cat and find out why sweet gardener Jane is no longer a friend. Everyone loves it. The list price is $16.95 but if you buy it from me (to be mailed within the USA) it is only $14.00 postpaid. It is also available as an Amazon Kindle ebook ($4.99).

APHID IN MY EYE: ADVENTURES IN THE ORCHID TRADE, by Tom Powell

Have you ever been part of a select plant society or garden club? If so you will laugh out loud at the adventures of innocent newlyweds Betty and Tom Powell as they held hands and took on the high flying world of competitive orchid growing, showing, and trading. You may already know Thomas Powell as the witty and knowledgeable editor of the Avant Gardener newsletter. This book has been illustrated to perfection with wild drawings by Betsy West. The list price of this book is $14.00, but from me (postpaid within the USA) it is only $12.00. It is also available as a Kindle ebook from Amazon.com. There's a nice preview on Amazon as well.

For info or a book list write to betty@mackeybooks.com, or by snail mail to B. B. Mackey Books, PO Box 475, Wayne, PA 19087