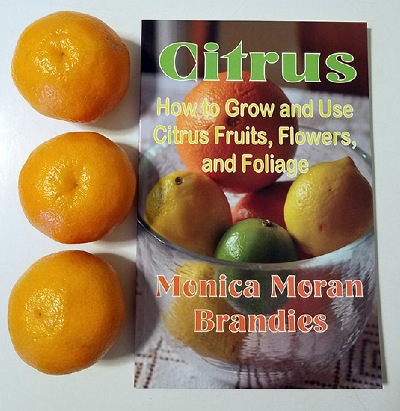 CITRUS: HOW TO GROW AND USE CITRUS FRUITS, FLOWERS, AND FOLIAGE, by Monica Brandies

Grow citrus! Kumquat, limequat, lemon, honey murcott, tangelo, Cara Cara navel, grapefruit, ponkan, pummelo? This info packed little book shows the best types of citrus fruit for your garden and tells how to grow them. Although the book covers the many types of citrus, most of them grow in the same way because they are closely related. Almost all kinds of citrus trees need serious protection from frost, but some are well suited to a sunny indoor room. Citrus is one of the world's most useful herbs. Here are recipes for drinks, food, beauty products, household products, insect repellents, air fresheners, and more. Don't waste the fruit, peels, or even the blossoms. What a fun reference! In this colorful handbook, Florida author Monica Brandies shares her ways with wonderful homegrown or purchased citrus:

* Buy or harvest citrus. Tips on selection and storage of the best fruit.
* Grow citrus at home. Indoors in cool climates and outdoors in many southern states, here's what you need to know to keep your citrus trees and shrubs healthy.
* Citrus in the kitchen. Recipes and techniques for food and drink from citrus fruits, peels, and flowers. Treats! Waste nothing, not even the peels.
* Citrus around the house. Air fresheners, potpourri, citrus vinegar, citrus products for cleaning and stain removal, and orange oil for multiple heavy duty uses.
* Citrus in the garden. Kill bugs and fire ants, repel mosquitoes and cats, and make worm compost.

This book has color photos on every page. It is a short and sweet guide for home growers. The cost from this website to USA residents, postpaid, is $14, but the list price is $16.95.

Click here for the Amazon.com link to Citrus Kindle Ebook

For more info, write to betty@mackeybooks.com.